HERE'S MORE ABOUT HOW & WHY we're so passionate about GREENSKIN wine
As avid sailors and serious wine lovers, when you're on a boat, there's no hiding just how inconvenient glass bottles really are.
We knew we weren't the only ones embarking on land and sea adventures who find traditional bottles heavy, bulky, breakable and very inconvenient to dispose of during and at the end of your adventure.
Not to mention that glass is very energy-intensive to produce and transport. Plus what landfill site needs more waste?
So after storing, carrying, drinking and disposing of (more than) our fair share of glass bottles, we have created a product that is better suited to the great outdoors and kinder to it.
Going glassless was our answer.
We fused our passion for great wine, the environment and an active, outdoor lifestyle to give Aussies something that genuinely solves a problem for them (and us), all while being kinder to the planet!
We're so glad that you can be a part of the change!
ENTER... the mighty greenskin pouch
It's so convenient & practical!
The Greenskin Wine pouch is revolutionary and designed to make enjoying wine in the great outdoors easier and lighter, in every way.
and much kinder to the planet
We believe that the things we enjoy shouldn't come at the expense of the environment. Each Greenskin pouch: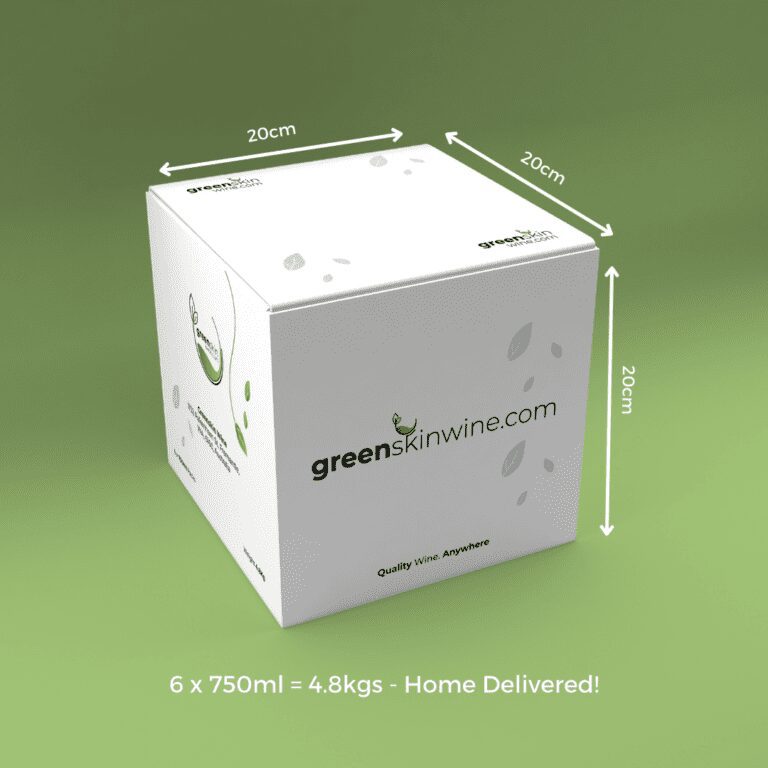 it's also compact & lightweight
the wines - no more bottle shop confusion!
We've all been there, grabbing a bottle with a cool-looking label that fits our budget, only to be disappointed when we get home and taste the wine.
We aim to eliminate the hassle of choosing quality wine for your next adventure.
All our wines have been hand-selected from premium Western Australian vineyards by Greenskin Wine's co-founder, Mike Davies, a winemaker and wine packaging specialist. Mike has worked in the wine industry for over 30 years, so he knows a thing or two about excellent quality wine and where to find it.
You can now avoid wasting time scouring the bottle shop shelves. We will deliver quality direct to your door. And, at reasonable prices, it won't cost you the earth. Literally!
Learn more about each wine's vintage, variety, winemaker and winery here.
Not only are the small parcels of wine we buy carefully chosen by us from some of the best Australian vineyards, we also visit each winery and hand package them up ourselves in our purpose-built trailer, the 'Green-Machine'.
Here are some pics of us in the beautiful Margaret River region in Western Australia and the packaging machine in action.
who the heck are we anyway?
If you've read this far, you might be keen to know who's behind this new-wave concept.
In short, we're down-to-earth, crazy boaters, winemakers and huge fans of a good old-fashioned long lunch.
Here's more if you're still interested: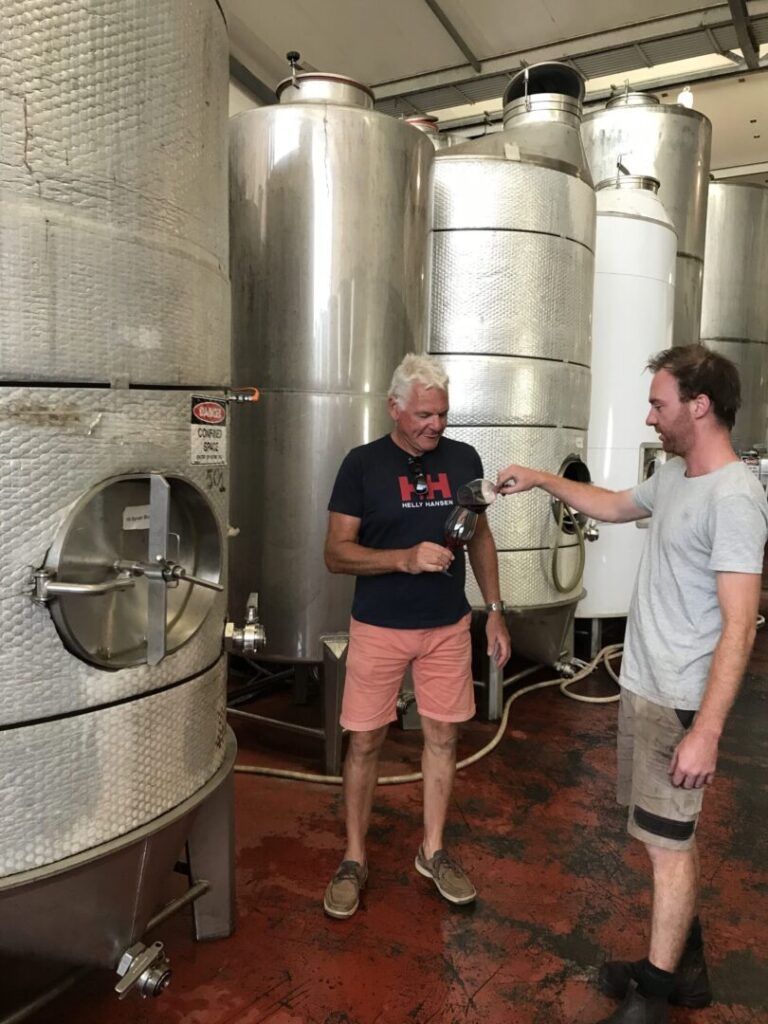 Mike Davies (left) – Feeling very at home doing his final tasting and testing before packaging the 2019 Margaret River Syrah.
MIKE DAVIES - greenskin wine's director & ideas man
Mike is a classic veteran of the wine industry, with humble beginnings in winemaking coming to fruit at the tender age of 18.
After working at Tyrells and Chapel Hill as a junior winemaker, he slowly moved his way up the ranks with the likes of Katnook Estate, Coonawarra, Clairault, Ribbon Vale and Willespie (and sometimes laterally too, with a season at Chateau La Louviere in Bordeaux) before establishing his own award-winning Margaret River winery, Sandstone Wines.
From there, he founded Portavin, which started as a revolutionary way to bottle wines from his mobile bottling trucks. Like the Mr Whippy of the wine world, going from winery to winery, Portavin quickly grew into Australias largest independent wine packaging business with mobile and static operations throughout Australia and New Zealand.
So, it is fair to say that bottling and handling wine is second nature to Mike and better wine packaging outcomes has been a passion for most of his career.
In Mikes spare time, he's a boatie, sailing 505's (self-confessed 'badly'), Lasers (less so) and for many years his beloved sailing yacht "Sandstone", which has taken him on many adventures along Australia's east coast, Lord Howe and Noumea, and even (to his great surprise) winning regattas, like the Hamilton Island Race Week.
His latest catamaran sees him and his partner Kim racing less but cruising more and enjoying as much time aboard as possible in between coming up with new ways to make drinking quality wine anywhere easier and more fun!
kim mckee - greenskin marketer & wine taster
Growing up and working by the ocean all her life, Kim has taken the glorious idea of 'work-life balance' to a whole new level.
After studying Recreation (yes, it is a real course) at Griffith University in Queensland, Kim spent many years playing and working in tropical island resorts along the east coast of Australia.
As she soaked up these idyllic boating paradises, Kim grew a strong affiliation with sailing and all things marine and forged a marketing career in the marine industry. She has sailed extensively throughout the Asia Pacific region, the Mediterranean and the Caribbean, including a 12,000 nautical-mile voyage from Turkey to Australia when she was in her mid-twenties.
While marketing consulting for over 20 years, working with marine retailers, charter and boat sales companies, and the marine media, Kim met Mike and quickly adapted her rum enthusiasm into a diligent apprentice wine appreciator.
Under Mike's consistent wine guidance and his equal love for sailing, they soon set off on many an adventure with a grand selection of colourful and crusty characters in between trying to maintain their day jobs.
Mike and Kim continue to thrive on an outdoor lifestyle soaked up with a really great glass of wine (or two). And after storing, carrying, drinking and disposing of more than their fair share of glass bottles, they wanted to create a product that was better suited to the great outdoors and kinder to it.
They knew going glassless, and Greenskin Wine was the answer!
Kim McKee – Onboard her and Mike's second home cruising through the Great Sandy Straights, Queensland, Australia.
but, we're no one without our partners
We are nowhere and no one without our superb network of supporters who have helped breathe life into Greenskin Wine and kicked our visions into life.
These people and businesses are so vital to us; we have dedicated a whole page to them as a small token of our appreciation.