Your frequently asked questions (FAQ), answered.
Being an innovative new product we get that you'll have questions.
Here we have answered the most frequently asked questions (FAQs) we have received so far.
If you can't find the answer to your question in our FAQ section, please do not hesitate to contact us.
Each six-pack of Greenskin Wine includes a PRE-PAID postage pack for you to place your empty pouches into and mail back.
Thanks to our recycling partnership with Plasmar, every part of the pouch enjoys a second life as something awesome. You'll have instructions for this in your package when it arrives.
Or you can watch Mike demonstrate how here:
Read more about our innovative Recycling Programme here.
If you're liking the sound of the practical benefits of Greenskin Wine but are thinking, "eek more plastic in the world", here are the reasons why Greenskin Wine pouches are more environmentally sustainable than glass.
Why is glass such a problem?
Glass not only takes an enormous amount of energy to produce but also to ship to market. Plus, up to 60% of glass ends up in landfill no matter which bin you place it in. If it is recycled it has to be sorted and reheated. More energy. More carbon! And the shape is so inefficient: think of all that space between each round bottle.
Each 750ml Greenskin Pouch:
Takes 80% less energy to produce than an equivalent 750ml glass bottle.
Emits far fewer carbon emissions to transport due to its lightweight, compact nature. eg: When we transport one (1) truckload of empty Greenskin pouches to a winery to get filled, to send the same volume of empty glass bottles it would take twenty-six (26) trucks!
Is 100% recyclable.
Plus we offer a FREE easy recycling program – Each 6 pack includes a PRE-PAID post pack for your empties. Simply drop in the post and they are sent directly to our recycling partner where every part of the pouch is fully recycled and will enjoy a second life as something awesome!
We have created a product that is not only better suited to the great outdoors but kinder to it.
Join us on our #winewithoutwaste mission as we believe that the things we enjoy should not come at the expense of the environment!
Read more about our innovative Recycling Programme here.
Thanks to you, we have already diverted thousands of bottles from landfills around Australia.
Each and every part of the pouch (including the green envelope) is recycled by our recycling partners, Plasmar.
They turn plastic waste into a long-life, environmentally friendly alternative to timber.
This material is then made into various useful products, including pallets, sleepers, and bollards for different applications and even vineyard posts that help keep the grape vines upright.
We love this bit!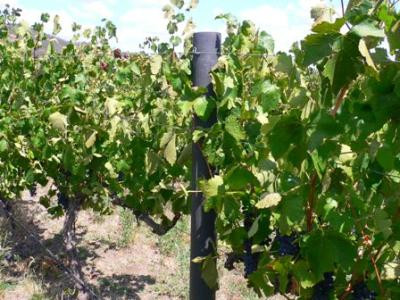 Read more about our innovative Recycling Programme here.
Shipping Prices:
Greenskin Wine shipping is very affordable.
Standard Delivery:
1 Case = $4.95
2 Cases = $8.95
3 or more Cases = FREE!
Express Delivery:
See full Shipping & Delivery Details here.
We deliver Australia-Wide.
(International deliveries may be considered in the future).
How long does it take?
Our courier collects wine from our storage warehouse every weekday (except Public Holidays).
Order before 1pm for next-day dispatch.
Standard Delivery is expected between 4-10 days from dispatch, depending on your location.
Express Delivery is expected between 2-4 days from dispatch, depending on your location.
A signature by someone over 18 years old is required to accept the order.
See full Shipping & Delivery Details here.
If our FAQ haven't answered your questions? We're here to help.
Our FAQs will be updated frequently to ensure all your questions are properly addressed.