it's never been easier to enjoy a good red or white while being green.
We are thrilled to be leading the way with our wine industry first, closed loop recycling system.
Our innovative Greenskin Wine pouches are 100% recyclable, and every 6-pack of Greenskin Wine comes with a postage-paid satchel for your to return your empties to our recycling partner where every part of your pouches and envelope are 100% recycled!
new recycling partner announced!
After the unfortunate closure of Redcycle, we have been madly searching for a new recycling partner.
As of the 13 July 2021, we are thrilled to announce that we have joined forces with the fantastic team at Plasmar.
Unlike our partnership, Plasmar is not just an intermediary; they are a full-fledged recycling operation that transforms plastic waste into long-life, environmentally friendly alternatives to timber.
This innovative material is used to create a range of durable products, including pallets, sleepers, bollards, and even vineyard posts that support grape vines, forming a beautiful full circle to see the wine pouches return to the vineyards.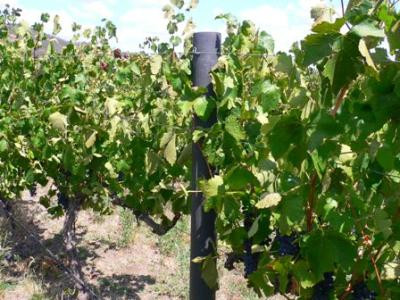 have some pouches to return?
To ensure a smooth process, we have created a new address sticker/label with the Plasmar address on it.
As of 04th August 2023.
You will find this sticker inside your case of wine. Please place it over the old RedCycle address on your green return envelope.
Be sure to place your six (or more) empty pouches in the newly addressed envelope and drop it into any mailbox to be returned to Plasmar for recycling.
For customers who have ordered between the 1st of July and 3rd August 2023:
We will automatically send you via post a new Plasmar address sticker/label to place on your green recycling envelope.
For customers who have ordered between 01st September 2022 and 30th June 2023:
We will be emailing you the week commencing 07 August 2023 to check if you require a new label for your recycling envelope. If you do, a new label will be mailed to you promptly so you can return your empty pouches as per usual.
For customers who have pouches from before 01st September 2022:
If you have pouches from before this date or have not heard from us by 08/08/2023, please email mike@greenskinwine.com with your confirmed postal address and number of stickers required, and we will send to you asap.
THANK YOU!
We sincerely appreciate your patience throughout this important transition. Together with yours and Plasmar's help, we are taking significant steps towards a greener future and a cleaner environment.
If you have any further questions or require additional information, please do not hesitate to contact us.
how is plastic better than glass for the environment?
It is a common misconception that wine in glass is the most sustainable packaging option. This is very incorrect.
Beyond the recycling element, Greenskin Wine is still a far more sustainable way to enjoy your favourite drops!
*68% of a bottle of wines carbon footprint is in its packaging and transport to market.
*Source: Australian Wine Research Institute (AWRI).
If every single bottle we bought, we washed and repeatedly refilled, glass would be the best. But, this doesn't happen, and (sadly) more than 50% ends up in landfills around Australia no matter what colour bin you place it in.
Plus, with data indicating that the vast majority of wines are consumed within two weeks of purchase, the fact they are still packaged in glass (which was originally for cellaring purposes) is certainly not the most sustainable option!
so what's the problem with glass?
Here are the reasons why Greenskin Wine pouches are more environmentally sustainable than glass.
Wine producers worldwide are taking extraordinary measures to reduce their carbon footprint by adopting sustainable viticulture practices eg: organic, biodynamic etc.
But with the growing concern about the volume of glass that ends up in landfill, plus the energy required to produce a glass bottle and transport it to market, wine packaging is the next obvious place to further reduce their environmental impact, and increase the sustainability of the wine industry as a whole.
We're so pleased to be leading the change into more sustainable wine packaging and we thank you for being part of the change!
industry recognition 2 years running!
Our efforts towards sustainability and innovation have been recognised by winning not one but two major awards at the 2022 AND 2023 PACKWINE Design Awards, taking out the Best Alternative / Sustainable Package Design Award and the People's Choice Award.
You can read the full story here.
Here's how easy it is to recycle your empty Greenskin pouches, so they do not become dreaded landfill.
australian packaging covenant MEMBERS
Greenskin Wine is also a proud member of the Australian Packaging Covenant Organisation (APCO).
The APCO is a not for profit organisation leading the development of a circular economy for packaging in Australia. The APCO vision is a packaging value chain that collaborates to keep packaging materials out of landfill and retains the maximum value of the materials, energy and labour within the local economy.
Through our APCO membership Greenskin Wine aims to maximise our sustainability credentials by committing to a system of scrutiny and measurement that will ensure any claims we make can be verified and compared to industry best practices.
While it is not mandatory for us to join this organisation, we firmly believe that it is a significant way for us to "walk the talk" which we trust will give you, our greatest asset, a greater connection to our commitment to sustainability in wine packaging.